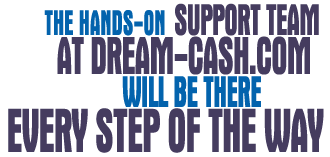 I've personally put together
the Dream-Cash team!
The support you'll get
working with us is unmatched.
I guarantee it!
- Lotza Ed


Please meet our courteous staff! My name is Ed and this is my beautiful wife Lori. Together we own and operate Dream-Cash. We've put together a wonderful staff of courteous, seasoned webmasters, designers, and programmers to help you along the way. No matter what you need, our staff, including Lori and myself are all here to do whatever we need to do to make your promotion of Dream-Cash as easy and as profitable as possible. Feel free to contact Lori about any accounting questions you may have or Mark our GM for anything else and we'll get it handled. We understand that in order for us to make money, you have to make money, so we want to make sure that all of our affiliates are well taken care of.